"When relocating to
Hawaii in 1995,
his original artwork
sold out and flew off
the walls of the
sixteen Wyland Galleries..."
Over the years, Juergen Aldag and his wife Wendy Arvella have generously donated his artwork to many charitable non-profit organizations including; The Make-A-Wish Foundation, Camp Baywatch, The Guggenheim Museum, The Society for the Prevention of Cruelty to Animals, Las Vegas Family Services / Child Haven, Safe Nest and many others in art auction fundraisers sponsored by Wendy's art magazines; "Art Newseum Las Vegas" and "Hawaii Art News & Directory".
Along with his friendship and connection to his celebrity art subjects and collectors, Juergen Aldag had also become a celebrity in his own right in the international art world and was dubbed, "The Celebrity Artist". His extensive celebrity art collections and collectors include the Beatles; Paul McCartney and John Lennon, Cher, the Scorpions and Siegfried & Roy, along with countless other superstars. In addition, his art is also appreciated and collected by an impressive list of high profile politicians including; President Obama, President George W. Bush, former Las Vegas Mayor Oscar Goodman and former California Governor/actor Arnold Schwarzenegger as well as museums including; The Guggenheim and the J. Paul Getty, and major corporations such as; Island Heritage Publishing, BMW, Indian Motorcycles and Polygram Records, just to name a few.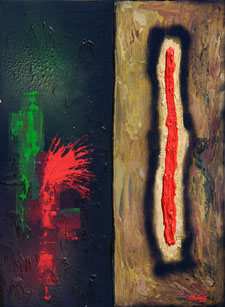 "In 2002 just after
he moved his art studio
back to Las Vegas
from Hawaii,Juergen
signed an extensive,
multi-level, multi-million dollar
contract with his friends
Siegfried & Roy…"
Although Juergen Aldag has physically passed away, his masterpieces are still very much alive and thriving. His legacy and artwork have continually appreciated over the years as did former great contemporary artists after their deaths such as; Van Gogh, Picasso and others of that era. He was as colorful and energetic as his artwork. Juergen was a very unique, eccentric character and was relentless when it came to painting and having fun doing it. He packed 200 years into 50 years of living and created thousands of original paintings in his lifetime; all the while winning from almost everyone he met their heartfelt adoration. To know him , was to love him. This website cannot possibly capture every wonderful, memorable moment of his life, or every canvass that he transformed into a masterpiece, but herein is a glimpse of a genius; his heart, his art and his life.
"This website cannot
possibly capture every
wonderful, memorable moment
of his life, or every canvass
that he transformed into
a masterpiece, but herein
is a glimpse of a genius;
his heart, his art and his life."