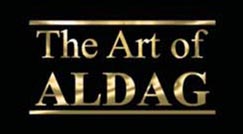 "In the artist Juergen Aldag we found the person who could transform the magic of my photographs
into a statement of what Siegfried and I stand for…" – Roy Horn /Siegfried & Roy




Juergen Aldag silk screened hundreds of original fine art paintings for the Scorpions. He was well known in Germany as one of the best commercial silk screen specialist in the world. He had a huge warehouse art studio in Germany filled with several enormous silk screen machines and other costly equipment used to create oversized original artwork. It looked like mass production, but in fact each one was an original with various colors and screens.

In 2002 Roy wrote in the fine art magazine Art Newseum Las Vegas, "Art should be simple and handled in a pure sense. Even the abstract should represent a meaning, an interesting slice of life. Juergen Aldag, who shares our German heritage, has seen our show at the Mirage Hotel in Las Vegas 1,000 times. He has studied all of our animals in the Secret Garden and Jungle Palace and has painted them in such a way as to demonstrate a refreshing, "cutting edge" artistic approach. Using actual photographs taken by me and enhancing them all around, Juergen gives a new, exciting look to the image".




In 1995 & 1996, Juergen Aldag created the "Nobody Wears It Better" and the "Wilder Than Wildlife" collections of fine art in Hamburg, Germany. These paintings were a result of a photo session that Aldag had at the home of Siegfried and Roy in Las Vegas, where several of their animals live in a custom made "wildlife environment", the Jungle Palace.



| | |
| --- | --- |
| "Illusion" | "Nobody Wears It Better" |
| "Golden Blue Eyes" | "Color Inferno" |
In 1995-2000 Aldag's "The Nobody Wears It Better" was represented at the Wyland Galleries located on all major Hawaiian Islands and in Las Vegas. In Hawaii he sold most of the originals and numerous fine art limited edition Cibacromes (the highest quality photographic print available at the time). He lived on the Hilton Turtle Bay Estates from 1994-2001 and enjoyed painting there and going on the "All Island Tours" with Wyland.

| | | |
| --- | --- | --- |
| | In 2001, Aldag collaborated with Roy Horn of the Siegfried & Roy show to create the Private Siegfried & Roy Fine Art Collection using photographs that Roy had taken of their animals that co-star in the show and live in their home at the Jungle Palace and at the Secret Garden in the Mirage Hotel in Las Vegas. | |




White Lions of Timbivati donated to The Guggenheim Museum at Ceasars Palace Las Vegas


"Titan"
Copyrighted ©2003 - 2013, Juergen Aldag.
All rights reserved. This website, or parts thereof,
may not be reproduced in any form without written permission from Juergen Aldag's wife Wendy Arvella S.