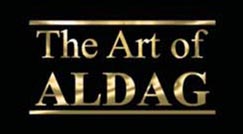 Click on Links Below to See the Videos or go to www.youtube.com and Search: Juergen Aldag




Juergen Aldag "The Celebrity Artist" and the Scorpions have been friends since the 1980's. He was a big fan and toured with them in 1992-93. He loved painting fine art collections for them with his signature style art. They love his art so much that they have collected several of his paintings and have displayed some on stage at their concert.

The Scorpions have been the VIP guests at several of Aldag's art exhibitions in America and in Germany, and Juergen has been their VIP guest at some of their rock concerts. He partied with members at German and Hollywood night clubs as well as at their homes. They have also visited him at his 6,000 sq. ft. art studio in Germany to see what he was working on.



Juergen Aldag has been painting for Siegfried & Roy since 1988. In 2001, Aldag collaborated with his friend Roy Horn of the Siegfried & Roy show, "The Magicians of the Century", to create the Private Siegfried & Roy Art Collection using photographs that Roy had taken of their animals that co-star in the show and live in their home at the Jungle Palace and at the Secret Garden in the Mirage Hotel in Las Vegas. These original fine art paintings were enhance with pure 24 karat gold and genuine diamonds.

In this video Siegfried & Roy praise and endorse Juergen and his artwork to confirm that he is one of the greatest artists of our time.







This is a video about the late, great artist Juergen Aldag and his wife Wendy Arvella including their travels in Asia and Europe and the history of "The Celebrity Artist". In this video you will also see The Art of Aldag Siegfried & Roy Fine Art Collection. These paintings are all masterpieces that were created with Juergen's amazing, signature abstract art and Roy Horn's photographs of his animals that Siegfried & Roy gave to him.

Wendy and Juergen worked together on a Siegfried & Roy "White tiger Project" while living in Germany in 1995-96. This project included Juergen's fine art paintings and Wendy's children book "The Magic Royal White Tiger" which was translated into four languages. They were married for 12 years. Wendy is now writing a book and screenplay about his life which is as colorful as his artwork.







Juergen Aldag was a world renowned artist that donated many of his paintings to non-profit organizations like Make-A-Wish, Nevada Society for the Prevention of Cruelty to Animals (NSPCA), The Guggenheim Foundation, Red Cross, Safe Nest, Camp Baywatch and many others. He was famous for painting Siegfried & Roy's white tigers in Las Vegas and he was a master at abstract art.

Juergen loved to collaborate with other artists and was generous with his talents. His artwork is valued for as much as $100,000.00 for some of his originals that are enhanced with pure 14 karat gold and genuine diamonds. Here in this video there is a clip with Dr. Alan Morgan that Juergen collaborated with on an African safari fine art collection. Also this video has footage of an Art Newseum NSPCA art auction fundraiser where Juergen donated several of his paintings to raise funds to help animals find loving homes.



Juergen Aldag was born on Christmas Eve in 1955 and passed away in 2006 from Cancer. He had four memorial services in Hawaii, Las Vegas (two) and Hamburg, Germany where he was born. This video was taped at his Hawaiian memorial and reveals that Juergen was a born again Christian.

At this service there were 99 red balloons released into the sky on the North Shore of Oahu, Hawaii where his ashes were scattered in Turtle Bay and where he lived for almost 7 years and . When Juergen was in the hospital in the ICU on life support in Las Vegas during his last days, his wife Wendy played all his favorite Beatle and Scorpion songs with not much of a reaction from Juergen. But when she played Nena's "99 Red Balloons" song he smiled and tapped his finger. So, 99 red balloons were a part of his Hawaii and Las Vegas memorial services.

Juergen was one of the greatest artists of our time, but the way that his life changed after he let Jesus in his heart was miraculous. He is now resting in peace and all his masterpiece artworks are here with us to enjoy. Surely he would want you all to know about his life changing experience with God so that you may also ask Jesus into your heart and live a purposeful life like he did.




Copyrighted ©2003 - 2013, Juergen Aldag.
All rights reserved. This website, or parts thereof,
may not be reproduced in any form without written permission from Juergen Aldag's wife Wendy Arvella S.